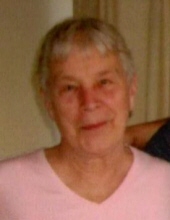 Obituary for Lorraine A. (Cote) Dillon
DILLON – Lorraine A. (Cote) Dillon, passed away peacefully on Sunday, June 17, 2018 at her home surrounded by her loving family. Born April 4, 1937 in Winsted; the daughter of the late Albert and Matilda (Nash) Cote.

Lorraine attended Gilbert High School and worked for many years at Waring Products and Executive Greetings. She loved to spend time with family and friends, playing Cribbage and Scrabble, listening to music and was often seen puttering in her garden. She was a gentle, kind and loving person who will be truly missed by all who were blessed to have known her. A special thanks to Hartford Health Care and especially Lorraine's daughter-in-law, Ruth, who made it possible for her to remain at home.

She is survived by three sons, Samuel Dillon (wife Nancy), Scott Dillon and Robert Dillon (wife Ruth); daughter, Lynn Besanceney; brother, Joseph Cote; and many grandchildren, great grandchildren, nieces and nephews. She was predeceased by her former husband, Samuel Dillon; brothers, Edward and William Cote; and sister, Mary Elizabeth Ryan.

Funeral services will be held on Friday, June 29, 2018 at Montano-Shea Funeral Home, 922 Main Street, Winsted at 10 AM. Visit an online guestbook at Montano-shea.com.