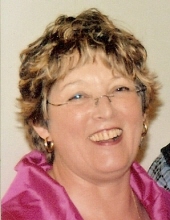 Obituary for Margaret "Midge" Elisabeth Langston
NEW HARTFORD – Margaret "Midge" Elisabeth Langston, passed away peacefully on June 5, 2018 at her home. She was the loving wife of William A. Marchand. Born August 1, 1946 in Torrington; the daughter of the late Eevie and Samuel Langston.

Margaret was retired from the Insurance Industry. She volunteered for the Town of New Hartford E.D.C., the Susan B. Anthony Project and reading program in Torrington. Margaret was an avid reader belonging to local book clubs.

In addition to her husband, she is survived by two sons, Sean Marchand and wife Tammy of CA and William Marchand of MD; a daughter, Diane Elmore and husband Kevin of NJ; brothers, Jason Langston of Torrington, Lee Langston and wife Elizabeth of Manchester, William Langston of Ellington, Robert Langston and wife Charlene of Clinton and Charles Langston and wife Annie of FL; niece, Hannah; nephew, Chaz Langston; and special friend, Beth Merritt of VT. She was predeceased by brother, Theodore Langston.

Memorial service will be held on Saturday, June 30, 2018 at Morris Congregational Church, 9 East Street, Morris, CT with Rev. Kevin Mongeau officiating at 1 PM. Burial will be at the convenience of the family. There will be no calling hours. Montano-Shea Funeral Home, 5 Steele Road, New Hartford has care of the arrangements. Visit an online guestbook at Montano-shea.com.