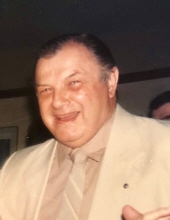 Obituary for Walter H. King, Jr.
Lt. Colonel Walter H. King Jr. USAF, Ret., died peacefully surrounded by his family on June 2, 2018 at his home. He leaves behind his beloved wife of 58 years, Ellenjayne "EJ" (McCurdy) King.

Born on September 5, 1932 in Northampton, MA to Kathryn A. (Dewey) King and Walter H. King, he attended schools in Winsted and graduated from the Gilbert School in 1950. Col. King received a BA degree in 1954 from the University of Connecticut, with majors in Psychology and Sociology. He was a member of Theta Chi fraternity, the Air Force Arnold Air Society and participated in intramural sports.

He was commissioned a second lieutenant in the United States Air Force upon graduation. He completed Air Force Navigator and Radar Navigator schools, James Connally AFB, Texas. He was assigned to all weather fighter interceptor units in the Air Defense Command (ADC). Stationed in Presque Isle, ME, he flew with the 75th Fighter Interceptor Squadron (FIS), the original Gen. Claire Chennault's "Flying Tigers" of WWII. He also flew with the 59th FIS in Goose Bay, Labrador, Canada and the 29th FIS in Great Falls, MT.

His completed Air Force Weapons Controller training at Tyndall AFB, FL and was assigned aircraft controller duties in Canada and the United States. He graduated from USAF Disaster Preparedness School, Lowry Air Force Base, Denver, CO, as senior instructor in Nuclear, Chemical and Biological warfare defense. He assisted in writing plans and conducting training exercises for both military and civil disasters. For several years, King was an advisor to the CT Civil Air Patrol unit in Torrington. He was also Senior Disaster Preparedness instructor in the Air Force reserve program at Westover AFB, MA. He completed 28 total years military service.

After retiring from active duty with the Air Force, King became a pharmaceutical sales representative with Wyeth Laboratories. He became a field representative with the State of Connecticut Department of Labor and then a senior planning analyst with the Medicaid program in the Department of Social Services years retiring from the State of Connecticut with 21 plus years service.

Following retirement, he enjoyed years in Clearwater, Fla. He closely followed UCONN Huskies men and women basketball games, along with the New England Patriots and Boston Red Sox. He was a Past President of both the Winsted and the Torrington Kiwanis Clubs.

In addition to his wife, he is survived by his daughters Lauren DiMauro and her husband Santo, Valerie Bartos and her husband Robert, Kimberly Adams and her husband Jeffrey; and grandchildren Erica Bartos, Jeffrey Bartos, Lindsey Guerrera, Michael Schleifer, Kristen Adams, Christopher DiMauro, Brian Adams, Chelsea DiMauro, Eric Adams; and great-granddaughter, Jordyn Guerrera; his brother Richard King and wife Margaret of Plymouth, MA, and many beloved nieces and nephews. He was predeceased by his sister, Carol (Sears) Zonghetti.

The family expresses sincere thanks for the kindness and care provided by Foothills VNA as well as his private caregivers especially Nicole Williams and Julie Griswold.

Friends may call on Wednesday, June 6, 2018 at Montano-Shea Funeral Home, 922 Main Street, Winsted from 5 -7 PM. A Mass of Christian burial will be held on Thursday, June 7, 2018 at St. Joseph's Church, Winsted at 11 AM with full Military Honors. In Lieu of flowers memorial donations may be made to: Wounded Warrior Project, https://support.woundedwarriorproject.org or St. Joseph Church, 31 Oak Street, Winsted, CT 06098. Visit an online guestbook at montano-shea.com.