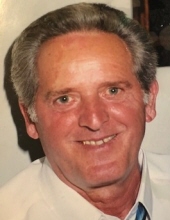 Obituary for Atanasios "Tom" Koutroumanis
Winchester, CT - Athanasios "Tom" Koutroumanis, 77, died on May 18, 2018 surrounded by his loving family and friends after a short battle with heart disease. He was born October 3, 1940 in Agion, Greece; son of the late Vasilis "William" and Panagiota Koutroumanis.

Tom proudly served in the Greek Army for two years. In October 1970, he came to the United States and worked at a family owned restaurant business in New Haven, CT. After having a love for the restaurant business, in 1976, he and his younger brother John, bought ABC Pizza House in Winsted and successfully operated it for 40 plus years before deciding to retire. A life long resident of Winsted, Tom enjoyed the outdoors spending time fishing and hunting. He will be sadly missed by his loving family, friends, and numerous patrons he considered close friends from ABC Pizza House.

He is survived by a daughter, Nectaria of Greece, her husband and their three children; three brothers, Gregory Koutroumanis and his wife Yalatia of Greece, Peter Koutroumanis and his wife Maria of Litchfield and John Koutroumanis of Colebrook; two sisters, Eleni Koutroumanis of Litchfield and Joy Mitchell of Old Lyme; and eleven nephews and nieces. In addition to his parents, he was predeceased by a sister, Loula Kokoris.

Friends may call on Wednesday, May 23, 2018 at Montano-Shea Funeral Home, 922 Main Street, Winsted from 5 – 8 PM. A Mass of Christian burial will be held on Thursday, May 24, 2018 at Saint Demetrios Greek Orthodox Church, 31 Brightwood Road, Bristol, CT at 10AM. Burial will follow at St. Joseph's Cemetery, Winsted. Memorial donations may be made to: St. Anthony's School, 55 Oak Street, Winsted, CT 06098 and/or Saint Demetrios Greek Orthodox Church, 31 Brightwood Road, Bristol, CT 06010. Visit an online guestbook at Montano-shea.com.