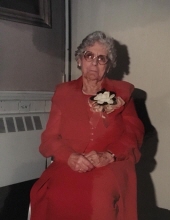 Obituary for Anais Cormier
South Windsor –

CORMIER – Anais Cormier, 99, passed away peacefully on May 9, 2018. She was the loving wife of the late Paul Cormier who passed away in 1985. Born April 14, 1919 in Notre Dame of Lordes, New Brunswick, Canada; the daughter of the late Ferdinand and Alice Desjardine.

In her youth, she made several wedding dresses in Canada. Anais came to the United States in 1947. She enjoyed working in a nursing home for many years. She loved cooking, bowling, sewing and spending time with her family.

She is survived by three sons, Toussaint "Joe" Cormier and wife Deborah of South Windsor, Ronald Cormier of Winsted and Conrad Cormier and wife Marge of FL; a daughter, Fernande Beasley of NH; brother, Stephen Desjardine and wife Annette of Canada; 18 grandchildren; 15 great grandchildren and many nieces and nephews. She was predeceased by a son, Fernand Cormier, grandson, Mark Cormier and several siblings.

Friends may call on Sunday, May 20, 2018 at Montano-Shea Funeral Home, 922 Main Street, Winsted from 2 – 4 PM. A Mass of Christian burial will be held on Monday, May 21, 2018 at St. Joseph's Church, Main Street, Winsted at 11 AM. Burial will follow at St. Joseph's Cemetery, Torringford Street, Winsted. Visit an online guestbook at Montano-shea.com.