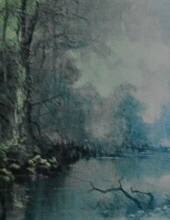 Obituary for Marina "Rina" Koszalka
MARINA "Rina" KOSZALKA

WINSTED – Marina B. Koszalka passed away peacefully on May 7, 2018. She was the wife of the late Stanley J. Koszalka. She was born in Sharon, Connecticut, youngest daughter of John and Marina Berti.

She graduated from Salisbury High School where she was an outstanding varsity basketball player for all four years. She continued to play ball for St. Peter's in Torrington after graduation. She retired from the Department of Consumer Protection, State of Connecticut.

Rina was an avid seamstress and knitter, making most of her own clothes and sweaters. She loved her golf as a member of the Greenwoods Golf Club where she won the Ladies Cup for her flight.

She enjoyed her daily walks around Winsted, UCONN Women's and Men's basketball, the Boston Celtics, Red Sox and PGA Golf.

She was a communicant of St. Joseph's Church, a member of the Winsted Health Center Volunteers, and a member of the Auxiliary for Community Health.

Rina leaves her children: Skip Koszalka and wife, Dotty; Cheryl DePaoli and husband, Carl; Judy Bordonaro and husband, Tom. Her grandchildren: Karen (DePaoli) and Michael Barnes, Niki Koszalka, Amanda (Bordonaro) and Jeremy Heath, Brian and Chelsea Bordonaro. Greatgrandchildren: Torsey Koszalka, Brayden Heath and Emma Bordonaro. She leaves several nieces and nephews, many cousins and a sister-in-law, Theresa Koszalka. She was predeceased by grandsons: Eric Koszalka and Christopher Bordonaro.

Family and friends may call on Tuesday, May 15, 2018 from 6 - 7 pm at the Montano-Shea Funeral Home, 922 Main Street, Winsted, CT. A service will follow.

In lieu of flowers, donations may be made to: North Canaan Volunteer Ambulance Corp., 15 Main Street, Canaan, CT 06018 or Hungerford Emergency and Medical Care, 115 Spencer Street, Winsted, CT 06098, Attn. Emergency Department. Visit an online guestbook at Montano-shea.com.