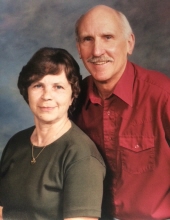 Obituary for Charles "Chuck" Stickney Sherwin
BARKHAMSTED –

The Lord fulfilled His promise to Charles (Chuck) Stickney Sherwin, age 81, on Thursday, April 26, 2018 and granted him His gift of eternal life. Chuck was born on September 14, 1936 in Fitchburg, MA; the son of the late Roger and Rachel (Mossman) Sherwin, and grew up with step mother, Sarah.

He graduated from Spalding Memorial High School in Townsend, MA. He was an Airman First Class in the Air Force from 1954-1959 and then served in the Reserves for two years. Chuck was a Lab Technician at United Technologies Corporation, where he worked for more than 25 years. He resided in Barkhamsted, CT and DeLand, FL.

Chuck enjoyed softball, hiking, singing in the choir at church, and reading. He earned a 2nd degree Black Belt in Karate. Chuck also enjoyed the Barkhamsted Senior Center and their many trips. His family and friends will always remember him as a friendly, kind person, always a true gentleman.

He is survived by his wife of 57 years, Barbara (Washington) Sherwin; daughter, Debbie Sherwin and wife, Kathy Beck of Newton, MA; son, Wayne Sherwin and life partner, Kayleigh Crowley of Hawaii; his four grandchildren, Tom and Heather McIlroy of Granby, CT; Harmony and Gypsy Sherwin of Hawaii; and half sister, Lynne Breuninger of Tuscon, AZ. He is preceded in death by his step brother, Edward Huling.

A memorial service will be held on Saturday, May 5, 2018 at Pleasant Valley United Methodist Church with Pastor Gangaware officiating at 11 AM with full Military Honors and a reception to follow. All are welcome to attend and celebrate Chuck's life. The family would like to thank close friends and family for their support and caring during this difficult time. Montano-Shea Funeral Home, New Hartford has care of the arrangements. In lieu of flowers, donations can be sent to Center for Cancer Care Fund, 200 Kennedy Drive, Torrington, CT 06790 and/or Pleasant Valley United Methodist Church, 93 River Rd, Pleasant Valley, CT 06063. Visit an online guestbook at Montano-shea.com.