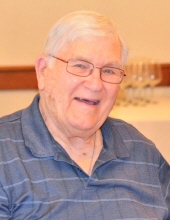 Obituary for Alfred Stephen Kosloffsky
Winsted –
KOSLOFFSKY – Alfred "Al" Stephen Kosloffsky, 91, passed away on Tuesday, April 24, 2018 with his family by his side. He was the loving husband of Doris (Lopato) Kosloffsky for almost 68 years. Born June 14, 1926 in Bridgeport; the son of the late Steven and Frances (Bundge) Kosloffsky.

Al proudly served in the U.S. Marines Corp and then served as Police State Trooper #49 and resident State Police for Brookfield, CT until retirement. He had a strong faith with the Lord and the Blessed Mother. He was an active Republican, member of the Men's Group at Brookfield Episcopal Church and was an avid fisherman. He was also an avid sports fan and enjoyed watching the Yankees, Giants and UCONN Women's Basketball. He had a great love of singing and spending time with his family. He was a devoted husband, father and grandfather and will be deeply missed.

In addition to his cherished wife, he leaves a son, Michael Kosloffsky of Torrington; two daughters, Judy LaJoie and husband Michael of Winchendon, MA and Mary Olsen and husband Don of Chesapeake, VA; 14 grandchildren, Chad, Kristi, Mark, Matthew, David, Alex, Michaela, Tatiana, Vinnie, Tony, Cody, Sarah, Hannah and Kevin; and 15 great grandchildren. He was predeceased by two daughters, Donna Kosloffsky and Kathryn Kemp and a niece, Polly Berceli.

Friends may call on Sunday, April 29, 2018 at Montano-Shea Funeral Home, 922 Main Street, Winsted from 2 – 4 PM. A Mass of Christian burial will be held on Monday, April 30, 2018 at Our Lady of Hope Parish, formerly Immaculate Conception Church in New Hartford at 11 AM. Graveside services will be held on Tuesday, May 1, 2018 at Central Cemetery in Brookfield, CT with full Military Honors at 11 AM. In lieu of flowers, memorial donations may be made to: METAvivor Research and Support, Inc., at metavivor.org and/or Our Lady of Hope Parish, PO Box 285, New Hartford, CT 06057. Visit an online guestbook at montano-shea.com.