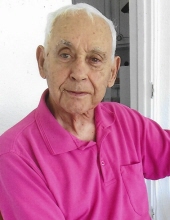 Obituary for John DiMauro
John DiMauro, 86, of Winsted, CT, died Sunday, April 15, 2018 after a brief illness. He leaves behind his loving wife of 62 years, Josephine (Spada) DiMauro.

Born August 9, 1931 in Floridia, Sicily; he was the son of the late Pasqualino and Giuseppina (Zacami) DiMauro. John followed in his father's footsteps and was a butcher in Sicily. He immigrated to the United States in 1956 and has been a resident of Winsted, CT and St. Petesrburg, FL. since. He was employed by The Torrington Company for over 30yrs and was the originator of John's Imports in Winsted.

In addition to his wife, he is survived by his three beloved sons, Pat DiMauro and wife Mary of New Hartford, Santo DiMauro and wife Lauren from Winsted and John DiMauro Jr. and wife Valerie from Barkhamsted. He also leaves six grandchildren whom he loved dearly, Jennifer, Jason, Jonathan and wife Stefanie, Christopher, Christina and Chelsea DiMauro.

John was a devoted brother to his siblings and inlaws. He was predeceased by brother Nino DiMauro and wife Lucietta; sisters Concetta and husband Luigi DiPaola; Franca and husband Tano Cantone from Sicily. He is survived by sisters Nunzia and husband Sebastiano (deceased) Calderone; Tiuza and Salvatore (deceased) Amenta; Paolo DiMauro and wife Lucia from Australia; Angela and husband Quinto Pandolfo of Sicily and Franceso and Dorotea DiMauro of Middletown, CT. Brothers in Law Tom Spada (deceased) and wife Norma and the late Joe Spada and wife Ida.

John also leaves behind his beloved nieces, Josephine DiMauro from Rocky Hill and Marianna and husband Chris and great nephew Lorenzo Vasiliou of Bristol. He also leaves numerous nieces and nephews behind in the US, Australia and Sicily.

John was a member of St. Joseph's Church of Winsted. He was an avid sports fan and loved rooting for the UCONN Women's Basketball team, Red Sox and Celtics.

John was a beautiful and gentle soul who deeply loved his family. He was a respected member of the community and will be greatly missed.

Friends may call from 5pm – 8pm on Wednesday April 18, 2018 at Montano-Shea Funeral Home, 922 Main St. Winsted, CT. A Mass of Christian Burial will be held on Thursday, April 19, 2018 at St. Joseph's Church, 31 Oak Street, Winsted, CT at 10 AM. Burial will be private at St. Joseph Cemetery, Winsted in the spring.

In lieu of flowers memorial donations may be made to the American Heart Association, PO Box 417005, Boston, MA 02241-7005.