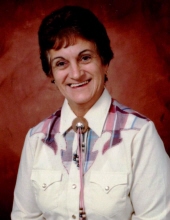 Obituary for Lorraine A. LaCasse
WEST HARTLAND – Lorraine A. LaCasse, 83, passed away peacefully on Thursday, April 12, 2018 at her home. She was the loving wife of Peter D. LaCasse for 52 years. Born February 19, 1935 in Burlington, VT; the daughter of the late John "Bill" and Vada (LeTourneau) LaTulippe.

Lorraine passionately worked at Hitchcock Chair for 51 years as a talented decorator. She enjoyed many hobbies including crocheting countless baby blankets, baking hundreds of wedding and specialty cakes and making many crafts with flowers. She was an avid fan of the UCONN Girls' Basketball team and would watch every game until the end. Most of all she loved being a Wife and Mother. She will be deeply missed.

In addition to her husband, she leaves her cherished sons, Jeffrey LaCasse and wife Terri of Tolland, MA and Robert Brower of White Bear Lake, MI; brother, John "Billy" LaTulippe and wife Rita of Indonesia; sister, Shirley Carey of Eugene, OR; close grandchildren, Becky, Angela and Rachel and many more grandchildren, great grandchildren, nieces and nephews. She was predeceased by a daughter, Sandra Brand; sisters, Theresa and Joyce and brother, Bob.

Friends may call on Thursday, April 19, 2018 at Montano-Shea Funeral Home, 922 Main Street, Winsted from 4 – 7 PM with a funeral service at 7 PM. Visit an online guestbook at Montano-shea.com.