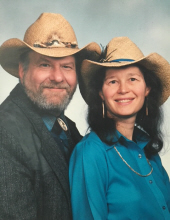 Obituary for Margot Victoria Burwood
BURWOOD – Margot Victoria Burwood, 74, passed away peacefully on Good Friday, March 30, 2018 at her home with her loving family by her side after a valiant battle with cancer. She was twice a devoted wife. First for 9 years to the late Walter VanHam and then to the late Robert H. Burwood for over 25 years who passed away in 2012 on Easter. She and Bob were sealed together in the LDS Temple and she was excited to be "going home" and spending Easter once again in his arms reunited for eternity. Born August 28, 1943 in Rockland, ME; the daughter of the late Herbert and Frances (Leaper) Mayer.

Margot graduated from Rosemary Hall, Smith College and had numerous continuing education credits and certificates including from Columbia University. She was proud to work as an Occupational Therapist helping many disabled children at Newington Children's Hospital and Torrington Public Schools for over 35 years.

She was an avid equestrian competitor, New England Pony Club champion many times and won numerous ribbons and trophies. She later 'downsized' and trained and competed with Bernese Mountain dogs in agility and draft. She also trained them as therapy dogs and would bring them in to her schools to work with the children. Margot also loved hiking, and could often be found on CT trails with her dogs. She was passionate about competitions her entire life, shown by all the ribbons that would hang all over her home, but her biggest competitor was herself... she was always trying to do better.

She was a faithful member of The Church of Jesus Christ of Latter Day Saints since 1981. She touched the lives of so many and always remained a positive, helpful person and will be deeply missed.

She is survived by her stepchildren whom she treated like her own, Dotty Ott of WA, Sharry Burwood of OR, Jennifer Sedgwick and husband Bill of Harwinton, Angela Burwood of New Fairfield, Melissa Burwood and husband Stan of Bristol, Rebecca Cowles and husband Eric of Windsor Locks and Kennieth Burwood of MA; her siblings, Sandra Zinman, Thomas Mayer, Carlie Mayer Feldman and Herb Mayer; many grandchildren, great grandchildren, nieces, nephews and cousins. She was predeceased by several of her beloved dogs. Her remaining two dogs are in loving homes near each other.

Friends may call on Sunday, April 8, 2018 at Montano-Shea Funeral Home, 5 Steele Road, New Hartford from 3 – 5 PM. A funeral service will be held on Monday, April 9, 2018 at The Church of Jesus Christ of Latter Day Saints, 27 Lawton Road, Canton, CT 06019 at 10 AM with burial to follow at Dyer Cemetery, Canton. Visit an online guestbook at montano-shea.com.