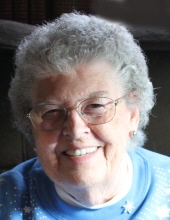 Obituary for Sally Ann Cadrain
Sally Ann Cadrain went to join her husband, Joe and son, Jay in Heaven on Friday, March 30, 2018. Born in Winsted in 1931, Sally spent her time on earth living and loving life in Winsted, Connecticut and Wells, Maine.

She was a devoted wife, mother and aunt to her children and extended family. She raised three wonderful children; Mark, married to April, Kim married to Bob Carbone, and Jay who was taken too soon.

Sally most enjoyed activities such as a swimming instructor at the YMCA, a floral designer at Smith Greenhouse, and as President and volunteer worker at the Auxiliary Thrift Shop.

She was a talented crafter at local church fairs and made Christmas ornaments for her family and friends. If you came to visit you didn't leave without one of her famous scrubbies.

Sally loved her family and was a shining example to them of compassion and a willingness to share. She was a true friend to her children's friends and her many crafting buddies. If you needed a shoulder to lean on or a bit of advice; she was there for you.

Along with her children, she is survived by her grandchildren, Rob and Lori Carbone, Colleen Smith, Holly and Will Krason; her great grandchildren, Morgan and Henry Krason; her loving nephew, Bruce Church, Joanne Vanasse and their family; her loving niece, Lynn Truby and Joe Gorneault and their family; and a special friend, Susan Caufield. Sally spent the last eight years living with Bob, Kim and Abby, her loyal cat in Wells, Maine. Sally was a woman of great faith who always told her family and friends, "The only thing we can take with us is the love we've given and the love we've received."

Friends may call on Saturday, April 28, 2018 at Montano-Shea Funeral Home, 922 Main Street, Winsted from 11 AM – 12 PM with a funeral service at noon. Burial will follow the service at Forest View Cemetery, Winsted. In lieu of flowers the family suggests a donation to the Auxiliary Thrift Shop in Winsted.