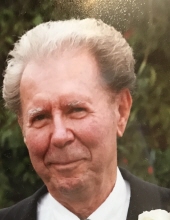 Obituary for Joseph E. Boutin
MILLERTON, NY – Joseph E. Boutin, 87, passed away peacefully on March 30, 2018. He was the loving husband of Mabel Florence (Cadrain) Boutin for 69 years. Born August 14, 1930 in Winsted; the son of the late Louis and Mary (Brown) Boutin.

Joseph received an honorary discharge for his service in the Air Force during the Korean War. He worked for the State of CT, Department of Transportation for 27 years prior to his retirement in 1977.

Since retiring, he has lived in Arizona, Virginia, Florida and New York. He loved gardening, traveling and helping his children with building projects when the need was there. He was an avid traveler who has visited all 50 states as well as spent many vacations traveling abroad to a number of different countries.

In addition to his devoted wife, he leaves his sons, Allan Boutin and wife Terri of IN, Thomas Boutin and wife Arlene of Winsted and Robin Boutin of NY; daughter-in-law, Diane Boutin of New Hartford; 7 grandchildren, Louis Boutin and wife Elke, Adam Kiesler and wife Allyson, Jason Boutin, Michele Cousins and husband Ashley, Michael Boutin, Seth Boutin and wife Samantha and Steven Boutin; 7 great grandchildren, Chelsey Boutin, Collin Boutin, Madyson Lorch, Avarey Kiesler, Wyatt Kiesler, Jacob Cousins and Caden Cousins; a sister, Shirley Veronesi of Winsted; and many nieces, nephews and cousins. He was predeceased by a son, David Boutin; daughter-in-law, Pattie Hoffman Boutin; a grandson, Matthew Kiesler; and nine siblings.

Graveside services will be private at St. Joseph Cemetery, Winsted in the spring. Montano-Shea Funeral Home, 922 Main Street, Winsted has care of the arrangements. Visit an online guestbook at Montano-shea.com.