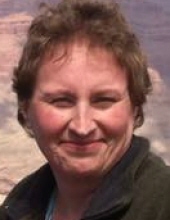 Obituary for Lisa A. Stanchfield
TORRINGTON – Lisa A. (Hilyard) Stanchfield, 47, passed away unexpectedly on March 26, 2018 with her loving husband by her side. She was the devoted wife of Alan Stanchfield for 13 years. Born August 29, 1970 in Frankfurt, Germany; the daughter of Cherine (Holick) Klein of AZ and David Hilyard and life partner Lisa Hake of OR.

Lisa graduated from Briarwood Community College and was employed by Town of New Milford as a Public Works Secretary for 20 years. She was also secretary and an active member with the Country Living Condo Association. She enjoyed baking, cooking and traveling. She loved music and attending many Rock concerts. She also loved visiting with Mediums. Lisa was a pillar, and the rock the whole family could depend on.

In addition to her husband, she is survived by a daughter, Miranda Hasbrouck and fiancé Steven Wilkinson of Torrington; grandson, Jiraiya Alexander Wilkinson of Torrington; brother, Chad Hilyard of AZ; half brothers, Wyatt Hilyard of LA and Spencer Hilyard of CA; brother-in-law, Jeffrey Stanchfield and wife Lisa of Canton; sister-in-law, Dawn McCullough of Torrington; two dear aunts, Barbara Clavette of Middletown and Alice Hawley and husband Michael of Danbury; several aunts, uncles, cousins and friends. She also leaves her beloved three cats and her black lab. She was predeceased by her step-father, Arthur Klein; grandparents and uncle.

Friends may call on Saturday, April 7, 2018 at Montano-Shea Funeral Home, 922 Main Street, Winsted from 2 – 4 PM with a service at 4 PM. Burial will be private. Visit an online guestbook at Montano-shea.com. In lieu of flowers, memorial donations may be made to: The American Heart Association, donatenow.heart.org.