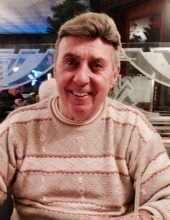 Obituary for Robert "Bob" E. Warner
WINSTED –

WARNER – Robert "Bob" E. Warner, 79, passed away peacefully on March 25, 2018 with his family by his side. He was the loving husband of Concetta "Connie" (Cornelio) Warner for 59 years. Born May 26, 1938 in Winsted; the son of the late Joseph and Lena (Coon) Warner.

Bob was a longtime employee of The Tiffany & Pickett Co. He enjoyed golfing, taking walks and working out. He also was a talented artist and had a great love for all kinds of music.

In addition to his wife, he leaves his son, Robert E. Warner, Jr., and wife Alesia of Winsted; daughter, Lori Cesnak and husband Jay of Winsted; grandsons, Trent Warner, Jack Warner and Sam Cesnak; step granddaughters, Ali and Abby Corso; two sisters, Joan Lancy of NH and Irene Gray and husband Art of Unionville and several nieces and nephews. He was predeceased by two brothers, John and James Warner.

Friends may call on Monday, April 2, 2018 at Montano-Shea Funeral Home, 922 Main Street, Winsted from 5 – 7 PM with a funeral service at 7 PM. Burial will be private. Visit an online guestbook at Montano-shea.com. Memorial donations may be made to: Sharon Hospital, 50 Hospital Hill, Sharon, Connecticut 06069.