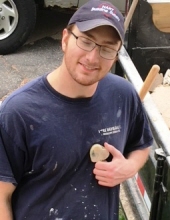 Obituary for Cole Joseph Litke
LITKE – Cole Joseph Litke, 19, passed away on March 6, 2018 surrounded by his family. Born March 13, 1998 in Torrington; the son of Corin Litke and Rosemarie (Dileo) Plante, both of Torrington.

He graduated from Oliver Wolcott Technical High and PHC in 2016 for Plumbing and Heating. He was a Plumber's Apprentice. Cole loved sports, was an avid weight lifter, football player and had a heart of gold. His personality just lit up a room and he should be remembered for who he was and we will always keep him in our hearts.

In addition to his parents, he leaves his half siblings, Amber (Gaylord) Plante, Eldaige (Tom) Plante and Edward Haburey; paternal grandparents, Frank and Susan Faccin of Torrington; maternal grandparents, Mary and Joseph Dileo of New Hartford; and many aunts, uncles, nieces, nephews, cousins and friends.

Friends may call on Tuesday, March 13, 2018 at Montano-Shea Funeral Home, 5 Steele Road, New Hartford from 5 – 8 PM. A Mass of Christian burial will be held on Wednesday, March 14, 2018 at Our Lady of Hope Parish, formerly Immaculate Conception Church, New Hartford at 10 AM. Burial will follow at St. Peter's Cemetery, Torrington. A Celebration of his life will be held at The Log House Restaurant after the burial. Visit an online guestbook at Montano-Shea.com.