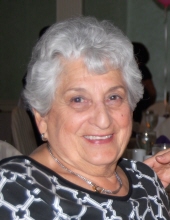 Obituary for Ann S. Aust
Ann Santoro Aust, 85, of Winsted Connecticut, passed away peacefully at home surrounded by family on Saturday February 24, 2018. Affectionately known as "Nonnie", she was a loving, nurturing and selfless person who lived in the most positive way, impacting many lives.

Ann was born September 30,1932 in Winsted, daughter of Sal and Fannie Santoro. She married her high school sweetheart, Bill, on May 21, 1955. In addition to raising her three children, Ann also worked as a bank teller for Hartford National Bank, then as Tax Collector for the Town of Winchester. She was an active member of St. Joseph's Church as well as the Italian-American Woman's club. After retiring, Ann's life never slowed down. She became a mahjong enthusiast, playing with multiple groups throughout Connecticut and Cape Cod. Ann enjoyed spending summers with family and friends on the Cape and at Stannard Beach in Westbrook.

Ann was loved by her 3 children, 3 grandchildren and numerous cousins, nieces, nephews and friends. She was the matriarch of the family – Naturally drawing people together with her infectious charisma and benevolent care. Her love knew no bounds, for she had the unique ability to make friends feel like family. She dedicated her life to cherishing those around her, bringing many to see her as a mother-figure in their own lives.

Ann is survived by her son and daughter-in-law, William and Mary Lee Aust of Kensington, her daughter Deborah Aust Hersh of West Hartford, her son and daughter-in-law Richard and Kandyce Aust of Windsor, her grandson William Aust and his wife Falon, her grandson Kevin Aust and his wife Ashley, her grandson Austin Hersh, as well as her 'sister' Aunt Marion and Uncle Frank Hall, her niece Gina Santoro and nephews Thomas and Michael Santoro. Ann was predeceased by her parents, Sal and Fannie Santoro, her loving husband William Aust, her brother Thomas Santoro and her son-in-law Dennis Hersh.

A Mass of Christian burial will be held Thursday, March 1st at 11 a.m. at St. Joseph Church, 31 Oak Street, Winsted, Connecticut. Burial will be held in the spring. Ann's wish was that in lieu of flowers, donations be made to St. Anthony School, 55 Oak Street, Winsted, CT 06098. Per Ann's request, there will be no calling hours. Montano-Shea Funeral Home, Winsted has care of the arrangements. Visit an online guestbook at montano-shea.com. The family offers thanks to all whom have sent comfort during this time and aided in her care.