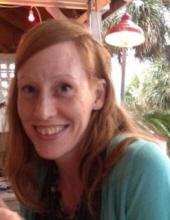 Obituary for Heather Ellen Day
GOSHEN – Heather Ellen Day, (formerly Heather Wilder), 46, passed away peacefully on Wednesday, February 14, 2018 with her loving family by her side. Born January 10, 1972 in Winsted; the daughter of Thomas and Carolyn (Sheffield) Day of Myrtle Beach, SC.

Heather attended local schools and graduated from Northwestern Regional #7 and UCONN. She was currently working as the IT Coordinator at Oliver Wolcott Library in Litchfield. She enjoyed gardening, hiking, camping and spending time with her cherished family; she will be deeply missed.

In addition to her parents, she is survived by her beloved siblings, Matthew Day and wife Laura of New Hartford, Nathan Day and wife Tamryn of Colebrook and Jessica Ackerman and husband Freddy of SC; soulmate, Tommy Mudry of Goshen; nieces and nephews, Jacob, James, Samuel, Chelsey, Cassidy, Abigail, Rylan, Daphne and Ethan; grandmother, Doris Sheffield of SC; and many aunts, uncles, cousins and friends.

A Celebration of Life will be held on Sunday, February 18, 2018 at Portobello's Restaurant in New Hartford from 1 – 4 PM. This will be a casual gathering for sharing stories and memories of Heather. Montano-Shea Funeral Home, 5 Steele Road, New Hartford has care of the arrangements. Visit an online guestbook at Montano-shea.com. In lieu of flowers, memorial donations may be made to: Oliver Wolcott Library, 160 South Street, PO Box 187, Litchfield, CT 06759.