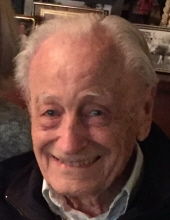 Obituary for The Rev. Ernest L. Bengston, Jr.
WINCHESTER CENTER –

The Rev. Ernest L. Bengston, Jr., 99, passed away peacefully on February 10, 2018 with his family by his side. He was the loving husband of the late Charmion P. Bengston. Born July 1, 1918 in Manchester; the son of the late Ernest and E. Gertrude (Bockus) Bengston.

Ernie served in the U.S. Army during World War II and the Korean Conflict as a Chaplin. He was Pastor Emeritus of the Winchester Center and Colebrook Congregational Churches as well as a member of the Church of Christ in Norfolk. He lived his life for his family, faith, community and serving humanity.

He was a member of the Winchester Grange #74, Winchester Center Volunteer Fire Department, and the Winsted Rotary Club for which he received the honored Paul Harris Award. He was a Board member and additionally volunteered for Foothills VNA for over 50 years. Ernie was also on the Foundation Board for Northwestern CT Community College. He donated regularly to the Red Cross and to Habitat for Humanity. He was a kind man who will be greatly missed.

He is survived by his two daughters, Dana P.B. Forchette and husband John of Winchester Center and C. Perry Bengston-Howard of SC; grandchildren, Christianne E. Forchette and fiancé Tom Welcome of Terryville, J. Ethan Forchette and wife Rebecca of NY, Zachary S. Howard of SC and Emily Howard of SC; and two great granddaughters, Adalynne Forchette of NY and Molly Bascetta of Terryville. He was predeceased by a brother, John Bengston.

Memorial services will be held on Thursday, February 15, 2018 at Church of Christ, Norfolk at 11 AM. Burial will be held at Winchester Center Cemetery in the spring. Montano-Shea Funeral Home, 922 Main Street, Winsted has care of the arrangements. In lieu of flowers, memorial donations may be made to: Habitat for Humanity, Foothills VNA, Church of Christ – Norfolk and/or Winchester Center Congregational Church. Visit an online guestbook at Montano-shea.com.