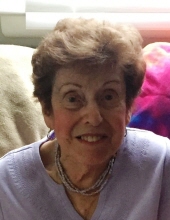 Obituary for Jeanette Hudson
HUDSON- Jeanette Hudson, passed away peacefully on February 6, 2018. Jeanette was a loving wife to the late Henry Hudson for 24 years and the late Salvatore Veneziano for 30 years. Born on June 19, 1924 in Winsted; the daughter of the late Jerry and Jenny (DiGiovanni) Bardino. She is survived by her son, Salvo Veneziano and wife Bonnie of Simsbury; and predeceased by her son Daniel Veneziano of Winsted.

As a life long resident of Winsted she played an active role in the community. She graduated from The Gilbert School. She was a communicant at St. Joseph's Church, a volunteer at Valley Thrift Shop for 10 years, a member of the Italian Women's Club and The Blanche McCarthy Senior Center.

Jeanette enjoyed spending time with her grandchildren, Corey Veneziano and wife Brittany Veneziano, Nicole Veneziano, Kristin Fotiathis and husband John Fotiathis. She is also predeceased by granddaughter Danielle Veneziano. Jeanette also enjoyed spending time with her great grandchildren Bentley and Kinsleigh Veneziano, Anthony Mazzie and Averi Fotiathis. Jeanette leaves two brothers, John Bardino and Joseph Bardino of Winsted and sister, Rose Lamberto of Winsted. She is predeceased by two brothers, Anthony and Angelo Bardino.

Calling hours are Saturday February 17, 2018 at Montano-Shea Funeral Home, 922 Main Street, Winsted from 8:30 to 10:30 AM followed by a Mass of Christian Burial at 11:00 AM at St Joseph's Church, Winsted. Burial will be held at St. Joseph's Cemetery, Winsted in the spring. Visit the online guestbook at www.montano-shea.com.