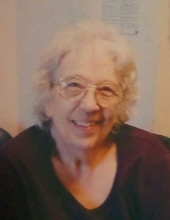 Obituary for Arlene S. Bronson
WINSTED - Arlene S. Bronson, wife of the late Donald H. Bronson, passed away peacefully on February 2, 2018. Arlene was born to the late Andrew and Sophie (Poniatoski) Senack in Torrington, CT.

She is survived by her four daughters, Donna McDonald and husband Ken, Carolyn Bronson, Susan Sochon and husband Lee and Gail Dean and husband David; three sons, Richard Bronson and wife Susan, Jeffrey Bronson, and Terrence Bronson Sr., and wife Felicity; grandchildren, Ken McDonald and wife Alisa and their children, Kyle and Annabelle, Erin Bronson, David Dean, Shawna Dean and their son Ryan, Justin Dean, Elizabeth Bronson, Terrence Bronson Jr., and Deanna Bronson; brother, John Senack and sisters, Joanne Bollard and Kathleen O'Shaughnessy. Arlene is pre-deceased by her husband Donald and sisters Jean Candiani and Rita Gagnon.

Friends may call on Wednesday, February 7, 2018 at Montano-Shea Funeral Home, 922 Main St., Winsted from 4 – 6 PM. Burial will be held at the convenience of the family. Visit an online guestbook at Montano-shea.com. In lieu of flowers donations may be sent to Winsted Ambulance Association.