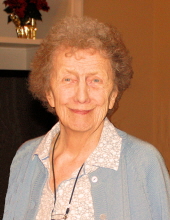 Obituary for Doris Strampach
COLEBROOK -

Doris Strampach, 91, passed away peacefully on February 1, 2018, in Gainesville, Virginia. She was the loving wife of the late Frederick Strampach for 54 years. Born April 25, 1926 in Medford, Massachusetts; the daughter of the late Walter and Beatrice (Balmer) Pingree.

After meeting her future husband, Fred, at a dance in Western Massachusetts, they married on January 24, 1953, and settled in Colebrook, Connecticut. Doris was the local Avon representative in the Colebrook and Winsted area for years, where she enjoyed meeting new friends and socializing. Doris, a devoted Christian, was a long-time member of the 2nd Congregational Church, formally the Church of Christ, in Winsted.

Doris leaves a daughter, Susan Conte and husband, John, of Poughkeepsie, NY; three sons, Norman Strampach, of San Jose, CA, Andrew Strampach and wife, Laure, of Gainesville, VA, and Richard Strampach and wife, Heather, of Southfield, MA; six grandchildren, Sheree Tortora, Kristi Gibney, Jacob and Rebecca Conte, Elaina and Aaron Strampach, and Adam Merrill; as well as four great grandchildren, Abigail and Aubree Tortora and Colton and Kipton Gibney.

A funeral service will be held on February 10, 2018, at the 2nd Congregational Church, in Winsted at 11 AM. Burial will be held in the spring at Colebrook Cemetery. Montano-Shea Funeral Home, Winsted has care of the arrangements. Visit an online guestbook at Montano-shea.com. In lieu of flowers please donate to the Fisher Center for Alzheimer's Research Foundation, www.alzinfo.org, 1-800-ALZINFO (259-4636).