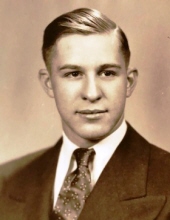 Obituary for Arba Alford Roberts
RIVERTON –

ROBERTS – Arba Alford Roberts, 88, passed away suddenly on Wednesday, January 31, 2018. He was the loving husband of Deborah (Bahr) Roberts for 62 years. Born July 28, 1929 in Winsted; the son of the late Laurence Hungerford and Dorothy (Friend) Roberts.

Arba proudly served in the U.S. Army during 1951 – 1953. He retired from the State of CT, Department of Environmental Protection where he worked as a Forest Ranger and finally the Director of CT Flood Control Program. In his retirement, he enjoyed working Part time at Radio Shack in Barkhamsted for many years.

He was a life member and Past Chief of the Riverton Volunteer Fire Department, Past President and life member of the Litchfield County Fire Chiefs Emergency Plan, a golden sheaf member over 70 years of the Riverton Grange #169 and the American Legion Post #159 of Riverton. He was also a member of the CT State Employees Assn. Council #400, Past President of Chapter #414 for five years and Vice President for three years. He donated 214 pints of blood to the American Red Cross Blood Bank. He loved traveling to Europe, taking 18 cruises over the years and many visits to Walt Disney World his last trip there being last week. He was a devoted husband, dad and grandpa and will be deeply missed.

In addition to his wife, he leaves two sons, Arba "Skip" Roberts, Jr., of NH and David Roberts and spouse Walter Oliver of West Granby; two brothers, Laurence Roberts, Jr., of VT and Douglas Roberts of Riverton; and 8 grandchildren. He was predeceased by his mother in law, Vera Bahr.

Friends may call on Tuesday, February 6, 2018 at Montano-Shea Funeral Home, 922 Main Street, Winsted from 9:30 – 11 AM with a funeral service at 11 AM with full Military Honors. Burial will be held in the spring at Barkhamsted Center Cemetery. Visit an online guestbook at Montano-shea.com. In lieu of flowers, donations can be made to the Riverton Volunteer Fire Department or Riverton Grange #169.