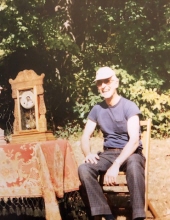 Obituary for Robert Linnell Tonkin
Robert Linnell Tonkin, (also known as "Father Time"), of New Hartford, Connecticut, passed away peacefully on December 11, 2017. Bob had been giving clock repair advice to members of the staff at Connecticut Hospice in Branford on the previous day.

Born in Hartford, CT on July 21, 1932, to Beatrice (Linnell) and Leroy Tonkin, both deceased. Bob grew up primarily in West Haven, CT with his older sister, Shirley (Tonkin) Mather and his older brother, Sherwood Linnell Tonkin, both deceased. He was predeceased in 2009 by his loving wife of 50 years, Helen (Reed) Tonkin.

Robert served in the Navy from 1951-1955, on board as LST supply ship. Upon discharge, he attended Hillyer College and the Ward School of Electronics. He was employed by Raymond Engineering in Middletown for 13 years. When funding for NASA's space program was reduced in 1971, he was laid off. He began work for Plymouth Electric and accompanying his nephew, Tom, in appliance repair. Soon after, he started the first of several self-employment businesses, among these were Tonkin Appliance Repair and the Nepaug Print Shop.

In the early 80's, he was hired to learn clock and watch repair from David Barbaret at Barbaret Jewelers in Thomaston, CT. His interest in clocks began with the first clock he took apart when he was young, his father's alarm clock. The story goes that when he showed his father what he'd done, his father replied, "That's great, now put it back together so it works!" Bob always felt that going to work for Dave Barbaret, doing something he absolutely loved was the best thing; bringing his love of clocks and timepieces full circle. In 2006, he branched off and began Negaug Clockworks in New Hartford, CT.

Bob and his wife, Helen met at a square dance in 1958. He was the caller and teacher for the "Friendly Westerners" square dance club in Plainville, CT. The Bristol Chrysanthemum Festival began in 1962 and by then "Smiling Bob Tonkin" and his brother-in-law, "Uncle Lew" Mather were professional callers. Bob called for a square dance that year at the Bristol Polish American Citizen's Club. The "Friendly Westerners" had a float for several years in the Mum Parade. Bob and Helen and their square dancers danced at the New York World's Fair in 1964. When he had his barn rebuilt in New Hartford, the upstairs had to accommodate four square dance sets.

Bob was active in New Hartford as a member of the Zoning Board of Appeals. He served terms as Vice President and President of the New Hartford Historical Society. He was one of the founding members of the New Hartford Day Committee and took great pleasure in recent years, raffling off a grandfather clock from his booth at the fair. The proceeds were donated to area churches.

Bob is survived by his daughter, Priscilla and her husband Robert J. Marshall of New Hartford; two sisters-in-law, Sandra (Dils) Hennen of Madison and Mildred Emily Reed of Bristol; four nieces, Pamela (Galbraith) Meir and husband Giovanni, Patricia (Mather) Morrell of Eastham, MA, Gatria (Mather) Wheeler of Eastham, MA and Deborah (Mather) Stoudenmire and James Flynn of Charlotee, NC; first cousin, Constance (Decker) Dufresne of Shaftsbury, VT; several grandnieces, grandnephews and cousins, Katherine, Eva and Danica Meier, Charles Morrell, Sabrina Jones and their children, Susan (Morrell) and Roy "Scotty" Chappell, Sherry Bronsord and her sons, Jeffrey and Mark, Shirley and Pablo de la Canal and their children, Nicholas, Sabina and Benjamin, James and Donna Stoudenmire and Steven Turgeon, Stephanie Stoudenmire, Mia, Michael and Jonathan Griffin, Charles Dufresne, Heather Dufresne and her son Hunter Dufresne.

He was predeceased by nephew, Richard Wheeler, grandnephew, Samuel Wheeler, nephew, Alan Morrell, grandniece, Linda Morrell and cousin, Exaid Dufresne.

There are no calling hours. In May of 2018, during apple blossom time, there will be a memorial service, burial at Nepaug Cemetery, and a reception at the Nepaug Grange Hall in New Hartford. Montano-Shea Funeral Home, 5 Steele Road, New Hartford has care of the arrangements. Visit an online guestbook at Montano-shea.com.

Memorial contributions may be made to: The American Clock and Watch Musuem, 100 Maple Street, Bristol, CT 06010, The New Hartford Historical Society, PO Box 41, New Hartford, CT 06057, the Foothills Visiting Nurse and Home Care, Inc., 32 Union Street, Winsted, CT 06098 or The Connecticut Hospice, 100 Double Beach Road, Branford, CT 06405.

If Bob had known he was going to exit so quickly, he would have also added, "…and another thing…please give my love to my favorite visiting nurse, Geri, to my favorite therapists, Karen and Diane, to my home care companion, Dee, to Patty at Patty's Diner and my favorite pea soup, to Joanne, a sweetheart, to Debbie, the best physician's receptionist ever, to Dr. Shanmugam, Dr. LaSala and Dr. Ansari, and to Dr. Upadhyay and Dr. Kumar, to Keith and Anne, to my new friend, John and to Claude, who so kindly kept me going, clock-wise and computer-wise; Thank you to you all!"

Bob's family wishes to express their deepest appreciation to all the care-givers, at Foothills VNA, at all of Bob's doctor's offices and to those who, in spite of his feisty nature, so graciously gave him care, kindness and humor in his last days.