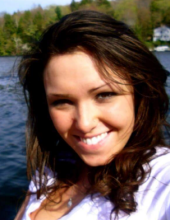 Obituary for Lauren Elizabeth Bardino
WINSTED –

BARDINO – Lauren Elizabeth Bardino, 24, passed away unexpectedly on Tuesday, December 19, 2017. Born January 2, 1993 in Torrington; the daughter of Stephen and Rita (Andrews) Bardino. Lauren was a lifelong resident of Winsted and graduated from The Gilbert School.

She was a bright, charismatic, artistic, beautiful young lady. She dreamt of being an interior designer, and was always helping people decorate their home. Especially with her own creations. Her beauty, creativity and style has touched many lives. Many of her Artistic creations adorn friends and families homes.

She was always very fashionable, and had an intuitive sense of style. And could put mundane pieces together and turn anything into a stylish outfit within seconds, and loved helping people do so!

In addition to her parents, she leaves her beloved sister, Angela Bardino of Winsted; paternal grandmother, Martha Bardino and maternal grandparents, George and Sandra Andrews, all of Winsted; aunts, Holly Griswold and husband Scott, Kelly Richerson and husband Jeff and Georgi Andrews, all of Winsted; cousins, Jennifer and Michael Bardino, Shannon, Angelina and Mackenzie Griswold, Julia Richerson, Shelby, Caleb and Mason Goodell, and Quinn and Rebecca Jaquins; and great nephews, Jayden and Kullen. She also leaves her cherished dog, Stella who was born on her godfather/uncle Mike's birthday. She was predeceased by her paternal grandfather, Angelo Bardino; uncle, Michael Bardino and aunt, Susan Jaquins.

Funeral services will be held on Saturday, December 23, 2017 at Second Congregational Church, Winsted at 11 AM. There will be no calling hours. Memorial donations may be made to a memorial fund will be entrusted at C/O Northwest community bank; The Lauren Bardino Memorial fund.

Burial will be held at Forest View Cemetery in the spring. Montano-Shea Funeral Home, 922 Main Street, Winsted has care of the arrangements. Visit an online guestbook at Montano-shea.com.