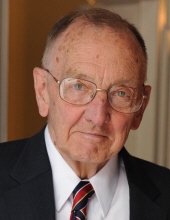 Obituary for Alden Wallbridge Ringklib
Alden Wallbridge Ringklib, born on August 29,1929 in New York City to Dorothy Valentine Brown and Charles Henry Ringklib, passed away peacefully in his sleep at Taylor Hospice, in Ridley Park, PA on December 7, 2017. He is survived by his daughters, Barbara-Jean Ringklib of Jacksonville, FL and Andrea Ringklib Liess of Philadelphia, PA. He is also survived by three grandchildren, Alexandra, William and Ella and two great-grandchildren, Gabriel and Madison. He was predeceased by his parents and his sister, Gene Hathaway Ringklib.

Alden "Denny" "Rink" "Al," a longtime resident of New Hartford, started work on Goldbeck's Dairy Farm at the age of 9. He was a boy scout and machinist who joined the Air Force on May 19, 1949. He was stationed Far East Air Force base in Tokyo, Japan and served honorably as an aircrew member during the Korean War attaining the rank of Staff Sergeant. He received the Good Conduct medal, the UN Service medal, and the Korean Service Medal. He also rated sharpshooter on the carbine and expert on the pistol. Upon discharge from the Air Force he joined the CIA and served on aircrews flying intelligence collection missions. He suffered combat injuries when his plane was shot down by communist forces. Upon separation from the CIA, Alden returned stateside where he joined the Connecticut State Police. He was a sharp-shooter, a rescue diver and New Hartford's Resident State Trooper for many years. He received commendation for capturing two escaped prisoners.

He was a member of St. John's parish. After retiring he held many local jobs and served as the Head of the Wetlands Committee. Alden was a talented handyman. He enjoyed farming, gardening and collecting tools. He was an avid outdoorsman and beloved by his family.

Funeral services will be held on Thursday, December 14, 2017 at St. John's Episcopal Church, Pine Meadow at 11 AM. Burial will be held on Thursday at Hillside Cemetery at 9 AM with full Military Honors. Montano-Shea Funeral Home, New Hartford has care of the arrangements. In lieu of flowers, donations may be made to: the New Hartford Historical Society, P.O. Box 41, 537 Main Street, New Hartford, CT 06057. Visit an online guestbook at Montano-shea.com.