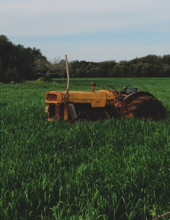 Obituary for Edward Richard Wimpfheimer
Edward Richard Wimpfheimer, born January 15, 1933 in Hartford, CT, was the older of two children born to Edward Wimpfheimer, Sr. and Hedwig Voskowsky Wimpfheimer Alcott. He had a close relationship with his sister, Arlene Wimpfheimer Spurgas, whom he lovingly called "Sis". Arlene preceded him in death in 2013.

Ed was a lifelong farmer and loved the land that he tilled. After he returned from serving in the army during the Korean War, Ed worked on the farm with his father and grandparents. In 1965, he married Nancy Lee Kay and they shared over 52 years of marriage. On Cedar Rock Farm in East Granby, they worked hard to raise their five children, teaching them the value of hard work and the importance of family. Ed warmly welcomed each of their children's partners into the family: Christian Edward Wimpfheimer and Eden Lanati Wimpfheimer (East Granby, CT), Heidi Wimpfheimer Tippett and John Tippett (Fredericksburg, VA), Laura Wimpfheimer LaFlamme and Kevin LaFlamme (Granby, CT), Robert Wimpfheimer and Amy Mason Wimpfheimer (Catawissa, PA), and Mary Wimpfheimer and Andrew Deburro (Granby, CT).

Ed had a song for every occasion and he often proclaimed through music that "He Did It His Way". Family and friends came to respect that his ways reflected the many things that were important to him. Ed was an avid dancer and Nancy was his life partner on and off the dance floor. Ed enjoyed bowling, sitting by the hearth, and watching the Giants. He always had the company of a good dog and was especially close to Bear, Lady, and Lily. Ed worked the land as long and as hard as his body would allow and as he got older he learned to sit and enjoy the view of his farm.

Ed and Nancy created special memories together with each of their eight grandchildren: Emily Kay LaFlamme, Rachael Marie LaFlamme, Anna Wenhua Tippett, Leah Kay Wimpfheimer, Joseph Edward LaFlamme, Elena Xiaoyao Tippett, Meaghan Elise Wimpfheimer, and Kirsten Brooke Wimpfheimer.

Edward died on December 4, 2017. Friends may call on Saturday, December 9, 2017 at Pilgrim Covenant Church, 605 Salmon Brook Street, Granby from 1-3PM. A funeral service with Military Honors will follow at 3PM. In lieu of flowers, donations may be made to the Granby Ambulance Association, East Granby Station , 6 Memorial Drive, East Granby, CT 06026.