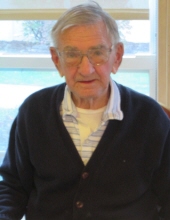 Obituary for John P. Fracasso
WINSTED -

FRACASSO – John P. Fracasso, 93, passed away on Saturday, November 25, 2017 at Arden Courts in Avon CT. He was for 65 years the husband of Mary Sweet Fracasso, who passed away in 2012. Upon graduation from The Gilbert School in 1943, John enlisted in the U.S. Navy and served for the remainder of World War II on the USS Miami in the Pacific. John was a father, grandfather, and great-grandfather, and he retired in 1989 after many years with Connecticut Light & Power. He was a longtime volunteer for the Aerial Ladder Company of the Winsted Fire Department, and a lifetime member of the Winsted B.P.O.E. (Elks). In 1992, John and Mary retired to South Yarmouth MA where John was active for many years in local bowling leagues, stamp collecting, caring for their beloved terrier mix, Z.Z., and entertaining their children, grandchildren and other family and friends who visited often on Cape Cod.

He is survived by his children, Grace Fracasso (Robert Coan) of Acton MA; Peter Fracasso (Susan Avery) of Enfield CT; Jean Fracasso (William Koldys) of Torrington CT; John Fracasso, Jr. (Lita Orefice) of Providence RI; 6 grandchildren; 1 great-grandson; and numerous nieces and nephews. His sisters, Millie Mazzochi and Inez McGinn, and brothers, Harry and Anthony Fracasso, all of Winsted, predeceased John.

Friends may call on Wednesday, November 29, 2017 at Montano-Shea Funeral Home, 922 Main Street, Winsted from 10:00 AM to 12:00 PM. A ceremony of Christian Burial at the funeral home will proceed immediately after calling hours, with interment to follow at St. Joseph Cemetery, Winsted. In lieu of flowers, memorial donations may be made to The Gilbert School, 200 Williams Avenue, Winsted CT 06098 to support the Mary & John Fracasso Family Fund for student activities.