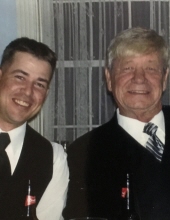 Obituary for Richard F. Wilber
COLEBROOK -

WILBER – Richard F. Wilber, passed away on November 13, 2017. He was the devoted husband to Virginia (Weidner) Wilber for 20 years. Born March 26, 1952 in Winsted; the son of the late Frederick and Amelia (Merkel) Wilber.

Rich was a life long resident of Colebrook and employed with O'Connor Brothers for 29 years and the Town of Colebrook for 18 years. He was very proud of and involved with the Colebrook Center Volunteer Fire Department for 49 years also serving as Fire Chief for 12 of those years. He enjoyed also serving as a Square Caller for dancing and an Auctioner in Colebrook for 40 years. Rich was the Head of the Ox Committee for the Riverton Fair and after his father passed, he served as Announcer for the Fair for 22 years.

In addition to his wife, he leaves his children, Jennifer Boyle of Colebrook, Johanna Stumpf of Torrington, Darcey Abbott and husband Ronny of New Hartford and Danny Petosa and wife Jennifer of West Virginia; a brother, George Wilber and wife Gloria of Colebrook; a sister, Truda Tanner and husband Luke of Warren; grandchildren, Madison, Brandon and Aiden Boyle, Logan Stumpf, Jason Anderson, Chistopher Stewart, Dustin and Luke Petosa; nieces, nephews and extended family and friends. He was predeceased by his beloved son, James Wilber.

Friends may call on Thursday, November 16, 2017 at Montano-Shea Funeral Home, 922 Main Street, Winsted from 5 – 8 PM. A funeral service will be held on Friday, November 17, 2017 at the funeral home in Winsted at 11 AM. Burial will follow at Beech Hill Cemetery, Colebrook. In lieu of flowers, memorial donations may be made to: Colebrook Center Volunteer Fire Department, PO Box 82, Colebrook, CT 06021. Visit an online guestbook at Montano-Shea.com.