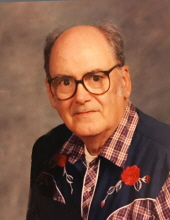 Obituary for Frederick Howard Slater
SANDISFIELD, MA

SLATER – Frederick Howard Slater, 85, passed away peacefully on Sunday, November 5, 2017 at his home. He was the devoted husband to Mary (Vagner) Slater for 49 years. Born April 11, 1932 in Winsted; the son of the late Frederick and Hazel (Twining) Slater.

Fred worked various positions such as for the Torrington Co., bus driver in Sandisfield, plumber and most importantly, Road Superintendent for the Town of Sandisfield. After he retired, he worked for the road crew again. He was very active in the Fire Fighters, Sandisfield Volunteer Fire Department and was Fire Chief for many years. He enjoyed scratch tickets, camping, collecting hats and snowmobiling. He will be greatly missed by all those he knew him.

In addition to his wife, he leaves his children, Wendy Slater of FL, Constance Slater and husband Dominic "Ben" Campetti of Sandisfield, Fred Slater of Otis, Gregory Slater and wife Darnell of Otis and Susan Galik of Sandisfield; four grandchildren, Stacey, Ericka, Tanya and Eddie; 8 great grandchildren and 2 great great grandchildren.

Friends may call on Sunday, November 12, 2017 at Montano-Shea Funeral Home, 922 Main Street, Winsted from 2 – 4 PM. A Memorial service will be held at New Boston Congregational Church at a time to be announced. Visit an online guestbook at Montano-Shea.com.