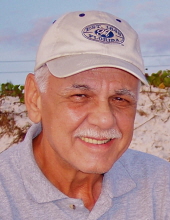 Obituary for Thomas Joseph Marshello
Thomas Joseph Marshello, formerly of Jersey City, NJ, a long-time resident of Nutley, NJ, Bradenton, FL, and most recently New Hartford, CT, passed away peacefully at home surrounded by his loving family after a long illness on August 26th.

He is survived by his wife of 50 years, Judy, daughter Kristen and son-in-law Dennis Phillips, and sons Thomas, Jr., and James. He was the proud grandfather of Tyler, Dylan, Hayden, Nola, Carley and Kiran, and brother to Theresa Gordon.

Tom was a graduate of St. Peter's University and served in the U.S. Army. Mr. Marshello was appointed as the Auditor General of the Newark School System and as Budget Director of the NJ State Senate. At the end of his career he served as an International Financial Advisor to developing nations for the International Monetary Fund in Washington, D.C. Those nations included Mongolia, Uzbekistan, Kazakhstan, Turkey, Liberia, Nigeria, and Vietnam.

Thomas Marshello will always be remembered as a loving husband, a supportive father, a charismatic grandfather, an enthusiastic accordion player, an avid sports fan, a dedicated golfer, an intense life teacher, a lucky gambler when he needed it, someone who was more intelligent than most, and a street-smart wise-guy to no end.

A Celebration of Life gathering for friends and family will be held on September 15th at 1:00 p.m. at the Phillips family home, 180 Cotton Hill Road, New Hartford, CT 06057. Should friends desire, a memorial contribution may be made in Tom's name to the hospice agency that provided care for him: VNA Northwest, Inc., 607 Bantam Road, Unit F, Bantam, CT 06050. Montano-Shea Funeral Home, 5 Steele Road, New Hartford has care of the arrangements. Visit an online guestbook at Montano-shea.com.