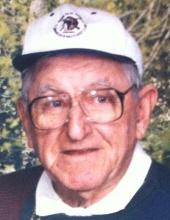 Obituary for Stanley A. Staszowski
Stanley A. Staszowski
December 12, 1917 – September 30, 2019 Was the Oldest living member of Professional Golfers Association of America

Winsted – Stanley "Stan" Staszowski, 101, of Winsted passed away on September 30, 2019 at Geer Skilled Nursing in Canaan, CT. He was the husband of the late Aldona "Bunny" Burnakis Staszowski. Stan was born in Torrington on December 12, 1917, son of the late Joseph and Aneila (Trafidlo) Staszowski. His family moved to a farm on Torringford Street in Winsted in 1920. He attended local schools and graduated from The Gilbert School in 1935.
Stan's father was the superintendent at Green Woods Country Club and the family all pitched in to help run the operation. When Joseph Staszowski passed away from pneumonia when the children were young, the club directors offered Stan a position as Head Pro, Superintendent and Club Manager when he graduated from high school. During the winter months after graduation, Stan was employed at The Gilbert Clock Shop and Hudson Wire Company. He served at Green Woods for over 50 years and retired in 1986. He continued to teach and play golf after his retirement with members, family and friends. He especially enjoyed handicapping race horses with his lifelong friend, Paul Julian and taking winter golf trips with members from Green Woods.

Stan was accepted as a member of the Professional Golfers Association in 1939 and had been a member for over 80 years. He was the oldest living member of that organization, and was revered as a true "gentleman of the game of golf". He served as an officer of the CT Section PGA for 5 years . Stan was an Elks Life Member, Polish National Alliance member and a communicant of St. Joseph Church in Winsted, CT.

Staszowski was an accomplished competitive golfer. He qualified for the National PGA Championship in 1940 and was the youngest pro in the field @ Hershey, PA losing to Gene Sarazen in the first round of the then match play format. He also played with the likes of Sam Snead, Walter Hagen and other legends. When Tommy Armour was the head pro at Rockledge Country Club, he and Stan had a close professional relationship.

Stan was drafted into the U.S. Army in 1941, and served as a Sergeant Major with the 745th Anti-Aircraft Battalion in the South Pacific, specifically, Australia and New Guinea. He participated in the Coral Sea Battle. Stan's brother Frank and the family continued to run Green Woods in his absence. When Stan returned home and resumed his duties, he was involved in a serious car accident on the way home from The Norwich Invitational and suffered major injuries including a broken pelvis. While recovering from the accident at the Litchfield County Hospital in Winsted, he met his future wife, Bunny, a registered nurse from Scranton, PA who was assigned to his care. The couple purchased a home across the street from the Staszowski farm and "two good drivers distance" away from Green Woods. Bunny and their children continued the family tradition with all of them working to help run the country club.

His competitive career was long and successful both nationally and locally, leading the Miami Open, finishing in the top 10 at theWestern Open, winning the CT Section PGA Championship, qualifying for the National PGA Championship multiple times and winning both the PGA and Senior PGA Championship in CT. Stan also qualified for two Insurance City Opens (now the Travelers Championship) when it was played at Wethersfield Country Club.

His lowest round in competition was a 66-63 at Shennecossett Golf Club in Groton, CT. He also holds the old course record at Greenwoods with a 58, 12 under par. He was honored as CT Section PGA Professional of the Year in 1960. In its inaugural year of 2008, Staszowski was inducted into the CT PGA Hall of Fame.

Stan was perhaps best known for his love of teaching others the game of golf. He mentored many caddies and players over the years, both novice and seasoned. Students of the game came great distances to improve under his tutelage. His greatest enjoyment was in sharing his knowledge, love and respect for the game over a period of eight decades and always worked to "grow the game". Some of his protégés went on to become golf professionals, and amateur champions, but anyone who took lessons from him benefitted from his ability to help them improve.

He leaves behind his three children, Joseph and wife Jane of South Windsor, CT, Mary Ellen Vaccari and husband Leo of Winsted, CT, James and wife Linda of Lenox, MA., 8 grandchildren and 9 great grandchildren. Also sisters Janet Barnes, Josephine "Babe" Ochotnicky and brother John Stowe. He was predeceased by siblings Frank Staszowski and Veronica Rusckowski.

Calling hours will be held on Friday, October 4, 2019 from 9 -10:30 a.m. at Montano Shea Funeral Home, Winsted, CT to St. Joseph Church, Winsted for a Mass of Christian Burial at 11 a. m. Burial with full military honors will follow at St. Joseph's Cemetery, Winsted, CT. Stan's family would like to extend sincere gratitude to the staff at Geer Skilled Nursing and Rehabilitation in Canaan, CT for the support, care, kindness and compassion extended to Stan and his family during his stay there.

In lieu of flowers, donations may be made in Stan's name to The CT PGA Junior Golf Program, 931 Main Street, Carriage House, South Glastonbury, CT 06073 or The First Tee of CT, 55 Golf Club Road, Cromwell, CT 06416. For more info, or to send e-condolences, visit www.montano-shea.com.