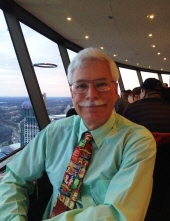 Obituary for Kevin A. Presbie
Kevin A. Presbie, 64, passed away unexpectedly, surrounded by his family on Friday, August 23, 2019. He was the beloved husband of 38 years to Melody (Reed) Presbie.

Kevin was born April 15, 1955, in New Britain, CT, the son of the late Edward and Marie Presbie. He moved to Bloomfield in 1958, then settled in Torrington, CT after his marriage in 1984. Kevin was a 1973 graduate of Bloomfield High School and 1977 graduate from the University of Connecticut.

He worked as a salesman for several companies before starting his own company, Berkshire Coffee & Snack in 1988, running this one man show.
Kevin loved his music, classical, James Taylor but especially Frank Sinatra and John Denver. He loved spending family time, tickle time with his grandsons and recently had a family vacation in his favorite spot, Vermont!

In addition to his cherished wife, Kevin leaves behind his two daughters, Jessica Pettit and husband Jason of Burlington and Karina Presbie of Torrington; brothers, Jay Presbie of East Granby, Brian and sister in law, Debora of North Granby, Granville and sister in law, Anne of Newtown, sister-in-law, Jayne of Torrington and Arizona; cousins and a niece and several nephews. He leaves his greatest loves, his grandsons, Jace Bankston, Aiden Pettit and his new grandbaby due in October. He also leaves many "best buddies" including Donald Evans and Kerry Klein.

Calling hours will be Friday, August 30, 2019 at Montano-Shea Funeral Home, 5 Steele Rd., New Hartford from 4 – 7 PM. Funeral services will be held on Saturday, August 31, 2019 at the 1st Congregational Church of Barkhamsted, Town Hall Rd, Barkhamsted at 1 PM with committal service following at Barkhamsted Center Cemetery. Visit an online guestbook at Montano-shea.com.