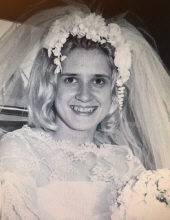 Obituary for Janice L. Sheffield
SHEFFIELD – Janice L. Sheffield, 72, passed away peacefully on Monday, August 27, 2018 at Masonicare in Wallingford, CT. She was the loving bride of Lynn H. Sheffield for 51 years. Born March 29, 1946 in Torrington; the daughter of the late John and Elizabeth (Bodley) Wald.

Janice was a member of Ephraim Kirby Chapter #75 Order of the Eastern Star in Litchfield. She loved shopping, gardening, decorating and celebrating the holidays with her family and friends. She enjoyed bird watching and her doll collection. She also loved her little dog Mitzie, vegetable gardening, and getting her nails done.

In addition to her devoted husband, she leaves a daughter, Tracy (Kevin) Teeling of Winsted; son, Christopher L. Sheffield of CA; grandsons, Nicholas M. and Nolyn F. Teeling, both of Winsted; twin sister, Judith (Bruce) Boyle of Winsted; sisters, Diane (Thomas) Mudano of Winsted, Susan Lemelin of Winsted, Barbara (Dennis) Goulet of Winsted, Tina (Kenneth) Hall of Northfield and Shirley (Butch) Liddington of New Hartford; foster brothers, Arnie and Howie; brothers-in-law, Captain Brian E. (Julie) Sheffield, USN Ret of FL, Glenn D. Sheffield (Charles Smith) of VA, Dale (Linda) Sheffield of New Hartford and Edward H. (Terrie) Sheffield, Jr., of NC; many cousins, nieces, nephews and friends.

Friends and family may call on Friday, September 7, 2018 at Montano-Shea Funeral Home, 5 Steele Rd., New Hartford from 4 -7 PM with the Order of the Eastern Star service at seven. Funeral services will be held on Saturday, September 8, 2018 at the funeral home in New Hartford at 11 AM. Burial will follow at Village Cemetery, New Hartford. Visit an online guestbook at Montano-shea.com.