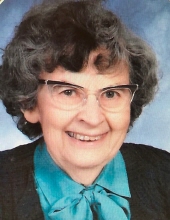 Obituary for Estaleen Fenn
Early Thursday morning, August 29, Estaleen Perkins Fenn, or "Essie" as she was called, went home to be with the Lord. She was born on March 23, 1918, the first child of Dr. and Mrs. Charles Perkins of Burlington, Vermont. Essie attended the University of Vermont, where she met her future husband, Raymond T. Fenn. She graduated as a Registered Dietitian in 1939 and worked in Providence, RI. In 1940, she and Ray married and moved to West Virginia. Later on, a move brought them to Springfield, VT where they welcomed their three children. A final move brought them to Barkhamsted where they built a home in Pleasant Valley.

Essie was very active in the Pleasant Valley United Methodist Church and Bakerville United Methodist Church. She was also a lifelong learner. She was always reading maps and looking up where countries were. She was also active in the greater United Methodist Church, attending workshops and conferences. It was at one of these conferences that she met and befriended a woman from Puerto Rico, and as a result of this friendship, Essie went back to school in her 50's and learned Spanish. When she learned to speak Spanish fluently, she and Ray began traveling to Spanish-speaking countries, starting with Puerto Rico.

In addition to travel, Essie was a musician and played the piano. In fact, well into her 80's she would play for the hymn sings at the Church of the Wildwood in Colebrook. She also encouraged all of her children to play musical instruments.

Essie was predeceased by her husband, Raymond, in 1995, and is survived by her children, James (and his wife, Margo), Fred (and his wife, Anne), and Linne Landgraf, as well as her brother, Chuck (and his wife, Jann) of Burlington, VT, as well as her six grandchildren and their spouses, 16 great grandchildren, and many friends and extended family.

The family wishes to express its sincere gratitude to the caring staff at Gardenside Lodge at Geer Village in Canaan, CT, where Essie spent the last 8 years of her life.

A memorial service will be held on Saturday, September 7, at 1:00 pm. It will be followed by a reception in the fellowship hall.

In lieu of flowers, donations may be made to the Pleasant Valley United Methodist Church.