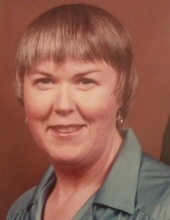 Obituary for Donna Reeves Corcoran
Donna Reeves Corcoran, 80, formerly of Eddy Road in Barkhamsted, died peacefully on August 5, 2018 after a long illness. She was the wife for 38 years of the late John A. Corcoran who died in 2004. She was born on June 2, 1938 and grew up in Thomaston CT; the daughter of the late Frederick and Ann Reeves. She was predeceased by a sister Jane Clapps.

Donna graduated from the University of Connecticut where she was a member of the marching band. For many years, she worked as a physical therapist for the State of CT and for Foothills Visiting Nurses Assoc. She was a communicant of Immaculate Conception Church in New Hartford.

Donna was always very proud of the fact that she was the niece of war hero and Congressional Medal of Honor Recipitent, Thomas Reeves. Donna was devoted to her husband and home and was a devout Roman Cathholic. She enjoyed nature, gardening, animals and most of all the UCONN Women Huskies.

She is survived by several cousins and friends. Her friends would like to thank the staff of Apple Rehab in Avon for the wonderful care they gave her and to the staff of Companions and Homemakers and Foothills Visiting Nurses Assoc., for her care at home for many years.

A Mass of Christian burial will be held on Saturday, August 11, 2018 at Our Lady of Hope Parish, (Formerly Immaculate Conception Church), in New Hartford at 9 AM. Burial will follow at Village Cemetery, New Hartford. There are no calling hours. Montano-Shea Funeral Home, New Hartford has care of the arrangements.

Donations may be made to the CT Humane Society, 701 Russell Road, Newington, CT 06111. Visit an online guestbook at Montano-shea.com.