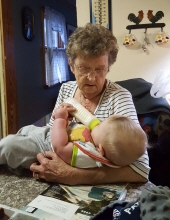 Obituary for Della M. Purcell
WINSTED - Della M. Purcell 79, passed unexpectedly on Thursday, Dec.13, 2018. She was the loving wife of Edward J. Purcell for 30 years. She was the daughter of the late Freeman Legassy and the late Jannette Morin, of Limestone, ME. She had a sister, Azelda Billings of Lincoln, NB and a brother, Fredrick Legassy of Fort Myers, FL. She was preceded by a brother, Oscar Legassy, her first husband, Donald J. McCaw, her son, Donald J. "Bubby" McCaw Jr., and her daughter, Debra A. Maiori. She is survived by 4 children, Brenda Sherman and her husband Bruce of Gorham NH, Donna Sherman and her husband Thedore of Winsted CT, Freeman McCaw of Smithfield NC, and Charles McCaw and his wife Laura of Punta Gorda FL. She was the beloved grandmother of 16 grandchildren and 20 great grandchildren.

She had retired from the Log House Restaurant after 40 years of service where she had thought and treated her employees and customers as they where part of her family. She spent her retirement traveling with her husband as snowbirds. Where she created a family of friends she loved to travel with.

She will be dearly missed by everyone. They will have a celebration of life at a later date at a time to be announced. In lieu of flowers, please donate to St. Jude Children's Research Hospital at stjude.org.