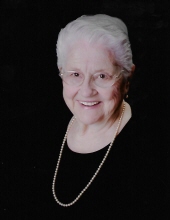 Obituary for Betty Reed
Betty Reed of Torrington, died peacefully on July 30, 2018. Born on March 1, 1933 during a blizzard on Matinicus Island, Maine, she was the daughter of Lloyd B. and Georgia D. (Quimby) Rhodes.

As a child, Betty lived in Rockport, Maine then moved to Bar Harbor where she attended high school, met and married Stuart, her husband of 53 years. She lived most of her life in Pleasant Valley where she raised her four children. After many years as a stay-at-home-mom, Betty worked as a bookkeeper at the Foothills VNA and the Barkhamsted Regional Refuse Disposal.

For more than 50 years Betty was an active member of both Order of the Eastern Star where she served in many capacities on the local, state and national levels and, the First Congregational Church of Barkhamsted where she was Trustee and Deacon Emeritus.
She is survived by three children, Granville/Anne, Jayne Reed of Arizona, and Melody/Kevin Presbie, granddaughters Jessica (Presbie)/Jason Pettit and Karina Presbie, grandsons Ethan/Sarah Reed of Virginia and Jordan/LoriAnn Reed of Pennsylvania, gt-grandsons Jace Bankston and Aiden Pettit, her sister Martha Perkins and brother Edgar Rhodes, both of Maine and many extended family. Betty was predeceased by her beloved husband, Stuart Reed and her lovely daughter Hope.

The family would like to extend their most sincere gratitude to the devoted staff and caregivers at Charlotte Hungerford Hospital for their excellent care as well as the compassion and love they extended to Betty. Thank you.

Calling hours will be held on Thursday, August 2, 2018 from 5:30 - 7:30pm at Montano-Shea Funeral Home, 5 Steele Rd, New Hartford with an Order of the Eastern Star service at 5:30pm. A celebration of Betty's life will be held Friday, August 3, 2018 at the First Congregational Church of Barkhamsted, 6 Old Town Rd, Pleasant Valley at 10:30am. Burial will follow at Barkhamsted Center Cemetery, Barkhamsted. Memorial Contributions in Betty's memory may be made to: Stuart & Hope Reed Memorial Scholarship – Greenwoods Scholarship Foundation, P.O. Box 834, Winsted, CT 06098 or, First Congregational Church of Barkhamsted, P. O. Box 211, Pleasant Valley, CT 06063 (Roof Project). Visit an online guestbook at Montano-shea.com.