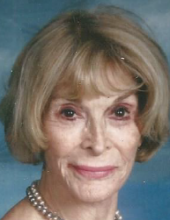 Obituary for Barbara Claman
NEW HARTFORD, CT – Barbara Claman, an incredibly accomplished Casting Director in both New York City and Hollywood. Credited with discovering such great talents as George Clooney, Laura Dern and Charlie Sheen, to name a few. Died, peacefully in her sleep at 89. She is survived by her Son Eric, Daughter-in-Law Creighton and four Grandchildren Alexandra, David, Richard and EJ.

Born and raised in Brooklyn, NY, she later moved to Manhattan where she started a career in show business. As one of the most successful commercial Casting Directors in New York, she moved to Hollywood to cast for Television Series and Movies.

Barbara's strong will, determination and strength had a huge impact on overcoming gender bias in the entertainment business. She rose to the top of her profession in the early 70's and remained there until her retirement in 2004. Her incredible ability to identify actors or actresses from memory, set her apart from her competitors, which was a great achievement in the era before computers were used.

After her retirement, Barbara donated her time and skills at the Braille Institute of Los Angeles. While volunteering there, she taught acting and even directed a play consisting of only blind actors. Her passion for tennis found her on the court with players decades younger, but lacking in her tenacity.

No public services will be held but we hope that all who knew Barbara and were touched in anyway by her love, talents and inspiration will write your thoughts and email them to bctennis19@gmail.com. They will be compiled in a book celebrating her life and all contributors will be sent a copy.

In lieu of flowers and gifts, a Performing Arts Scholarship will be created in her name at two local High Schools. Each year a deserving student from each school will be awarded a monetary scholarship based on their theatrical skills and passion. Please make checks payable to the Barbara Claman Theatrical Scholarship fund, C/O 89 Honey Hill Rd., New Hartford, CT 06057.