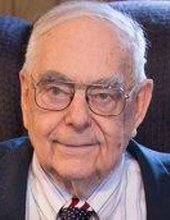 Obituary for Warren Francis Sullivan, Sr.
SULLIVAN – Warren Francis Sullivan, Sr., 92, passed away on August 26, 2017, peacefully surrounded by his family. Born July 9, 1925, Warren was one of fourteen children born to Dorothy (Warren) and Martin Sullivan, Sr. He lived in Winsted all of his life and was attending The Gilbert School when the United States entered World War II. Eager to volunteer, his parents would not sign for him to enlist, so he had to wait to be drafted. He left school during his senior year to join the U.S. Navy. After the war ended, he returned to Gilbert and graduated in 1947.

During the war, Warren served in the 7th Amphibious Force in the South Pacific, Mindanao and the Kadabado River as a Motor Machinist Mate Third Class. He was a decorated veteran, having received medals for serving in the American Theater, Asiatic Pacific, Philippine Liberation, Liberty Medal and the Battle Star for Philippine Liberation. In April 2015, he was named Veteran of the Month by State Senator Kevin Witkos.

Warren was married to Ellen (Sager) Sullivan for 32 years and raised four children. Ellen passed away in 1981. He later married Eugenia (Hislop) (Hughson) Sullivan and enjoyed a 27 year long marriage until Eugenia's passing in 2014.

A tool and die maker by trade, Warren was perhaps proudest of his accomplishments as a member of the Apollo space team. He was recruited by Pratt & Whitney to make parts for the space launch capsule and served in that capacity for several years. He often said, "They wouldn't let me go to the moon, but I helped make the parts!"

Warren is survived by his four children, Colleen Gundlach of Norfolk, Warren Sullivan, Jr., and his wife Cathy of Winsted, Sharon Okraska and her husband Paul of Torrington and Gail Leifert-Lymperopolus; stepdaughter, Penny Pilbin and her husband Sonny of Winsted; grandchildren, Kevin Gundlach, Catya Sullivan and Jeremy Leifert, all of Torrington, Kurt Gundlach of Norfolk, Cassie Riberdy of New Hartford, Trudy Hayes, Warren Sullivan, III, David Pilbin and Melinda Pilbin, all of Winsted, and Susan Cano of Shelton; two brothers, Robert Sullivan of Pleasant Valley and Patrick Sullivan of Winsted; and 15 great grandchildren and two great-great grandchildren.

In addition to his parents, he was predeceased by his siblings, Martin Sullivan, Jr., Hope Fitzgerald, Shirley Millard, Patricia Nelson, Jerry Sullivan, Richard Sullivan, John (Jack) Sullivan, Joseph Sullivan, David Sullivan, Nancy Sullivan and Dwight Sullivan; son-in-law, Carl Gundlach and Nikos Lymperopolus.

Up until his death, Warren remained an active participant in the community and was a member of the Winsted VFW, Disabled American Veterans, American Legion and the Second Congregational Church of Winsted.

Friends may call on Wednesday, August 30, 2017 at Montano-Shea Funeral Home, 922 Main Street, Winsted from 5 – 7 PM. A celebration of Warren's life will be held on Thursday, August 31, 2017 at Second Congregational Church, 800 Main Street, Winsted at 2 PM. Burial will follow at Forest View Cemetery, Winsted with full Military Honors. In lieu of flowers, the family requests that donations be made to Purrfriends, 36 Trotta Lane, Morris, CT 06763 in honor of Warren's beloved cat, Sophie; or the Building and Grounds Fund at the Second Congregational Church of Winsted. Visit an online guestbook at montano-shea.com.