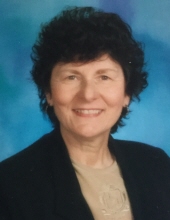 Obituary for Nellie V. Crowston
TORRINGTON –

CROWSTON – Nellie V. Crowston, 79, passed away unexpectedly on Sunday, July 30, 2017, surrounded by her family after suffering injuries from a tragic accident. She was born June 11, 1938, in New Hartford; the daughter of the late Arnold and Viola (Luntta) Vienot.

Nellie was a graduate of Torrington High School, had a Bachelor's Degree in Education and a Master's Degree in Psychology from CCSU, and a 6th Year Certification in Teaching Talented and Gifted from UConn. She was a teacher for over 50 years, sharing her knowledge with students in Torrington, Torrance, CA, and as an adjunct professor at NCCC in Winsted.

She was a communicant of Immaculate Conception Church and St. Maron's Church, where she taught CCD for over 15 years, as well as St. Peter's Church in Torrington.

Her interest in politics started in her childhood and she was a lifelong Democrat, holding positions on both the New Hartford and Torrington Democratic Town Committees. She served as the Head of the Connecticut Education Association-Retired for Litchfield County where she was known as "the driving force behind getting retirees to become politically active." She also served on the State Advisory Council for CEA-Retired and held the position of senior co-chair of its Legislative Committee, as a Chairperson of the CEA Public Relations Commission, and as the State Legislative Chairman for the Alpha Delta Kappa Organization for Women Educators.

In addition to her political pursuits, she enjoyed organizing many Litchfield County Singles Club functions and she co-founded the "New Hartford Cookery Club" in the 1970's. She loved her family and friends very much, was always there to lend support whenever needed, and will be deeply missed.

Nellie is survived by her devoted daughters: Elise Crowston (Kevin Real) of Pine Meadow and Selena Lefebvre of Barkhamsted; adored granddaughters, Callie Crowston-Hickey of Pine Meadow and Kyra Lefebvre of Barkhamsted; loving "gentleman friend," Ben Surprise of Westfield, MA; 2 sisters; former husband and friend, Lyle Crowston (Mary New and her children) of New Hartford; many nieces and nephews, her sorority sisters from Alpha Delta Kappa Mu, the teachers of Torrington, and the thousands of children that she taught in her 50 years as an educator.

Friends may call on Friday, August 4, 2017, at Montano-Shea Funeral Home, 5 Steele Road, New Hartford, from 4 – 7 PM. A Mass of Christian burial will be held on Saturday, August 5, 2017, at Our Lady of Hope Parish, formerly Immaculate Conception Church, New Hartford, at 10 AM. Burial will follow at Village Cemetery, New Hartford. In lieu of flowers, memorial donations may be made to: The ADK Mu for their scholarship fund and teacher grants, care of Susan Pelchat, 145 Silver Fox Lane, Torrington, CT, 06790. Visit an online guestbook at montano-shea.com.