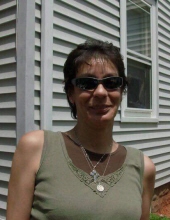 Obituary for Marsha Lee Swanson Hemstead
Hemstead, Marsha Lee Swanson (1968 - 2017)

Marsha Hemstead, 49, passed peaceful at home on Friday, September 22, 2017 in Saginaw Michigan after a long illness. She was the devoted wife of Daniel Hemstead. Born on March 21, 1968 at Charlotte Hungerford in Torrington and raised in Winsted, CT.

Marsha attended Winsted Public Schools. She loved all animals. When she was young, her mother discovered chickens in her bedroom closet. For the past 10 years, she was devoted to dog rescues, adoptions and placements. She leaves behind four dogs who will stay at home with her husband Dan in Saginaw, Michigan.

She enjoyed many things in life such as reading, flowers and angels. She adored horses and actually rode one at her wedding to Dan. Her favorite music artists were The Grateful Dead, Pink Floyd, Stevie Nicks, Nickelback and Luke Bryan. Her time here ended too soon and she will be missed by all who knew her.

In addition to her husband, she is survived by her mother, Rita V. Swanson of Torrington; 6 sons, Joshua, Jeremiah Gaynor and his wife Kathy Grace, Michael James, Gabriel, Hunter and Kevin Jr.; her brother, Nils and his wife Sandi of Torrington; her sisters, Jenny Swanson of Winsted, Lynne Nichols and her husband Joe of Winsted, Charlene Martel and her husband Dean of Barkhamsted, and Theresa Miner and her husband Mike of Nebo, North Carolina. She also leaves behind 3 grandchildren, Dillon and Brooklynn of Port St. Lucie, Florida and a two month old grandson named Gabriel who she never had the chance to meet. She also leaves many nieces and nephews.

May she fly on the wings of a dove and shower us with rainbows! Rest In Peace Dear Marshmallow!

Friends may call on Friday, October 13, 2017 at Montano-Shea Funeral Home, 922 Main Street, Winsted from 10 – 11 AM with a memorial service to follow. Visit an online guestbook at montano-shea.com.