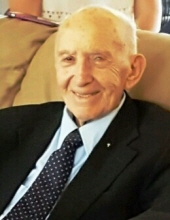 Obituary for Joseph S. Cannavo
WINSTED –

Joseph S. Cannavo, 93, passed away peacefully on September 30, 2017, surrounded by his loving family. He was the devoted husband of the late Emily J. (Nanni) Cannavo who passed away in 2015 after sharing sixty-four inspiring years of marriage. Born in Winsted Connecticut, July 8, 1924, he was the son of the late Antonio and Maria (Coco) Cannavo.

He proudly served in the U.S. Navy during World War II as a Sonar Tech in both the Atlantic and Pacific Theaters. Joe had a lifelong career as the proud owner of Cannavo Gardens as a Horticulturist. He was a devout Catholic serving as Eucharistic Minister, Lector and communicant of St. Joseph's Church and the prestigious honor of 4th Degree Grand Knight and Faithful Navigator for the Knights of Columbus in Winsted.

He was very involved in his community and was Chairperson for the Red Cross, Chairman for the Conservation Commission and member of the Winchester Grange. He will be remembered for being an old-fashioned, humble gentleman, kind, faithful, eternally devoted to his family and friends, leaving people better than when he found them and making all that came into contact with him feel warm, special and above all else, loved.

He is survived by his beloved children, Joanne and son-in law Frank Marzullo, Terrie and son-in-law Peter H. Walker, Marie Cannavo-Langill, Joseph A. Cannavo and Lisa and son-in-law Nicholas Venn, fourteen grandchildren; Jenna and husband Matt Stockwell, Jesse Marzullo and wife Alicia Pointer, Tyler and wife Karen Walker, Adam and wife Kristin Walker, Cory Walker and friend Kierstyn Godenzi, Mara and husband Wesley Gieseking, Jordan Langill and friend Rachel Ryan, Jeoffrey and wife Ashli Langill, Cecelia Cannavo and friend Kelly, Sophia Cannavo and friend Jess and Tessa Cannavo and Nicholas Venn and friend Tayler Bolduc, Rachael and Kyle Venn; 12 great grandchildren; a sister, Connie Zaccara; and many beloved nieces and nephews. Joe was predeceased by his siblings, Sarah English, Josie Malanca, Catherine Nero and Tony Cannavo.

Friends may call on Wednesday, October 4, 2017 at Montano-Shea Funeral Home, 922 Main St, Winsted, CT from 4 – 8 PM. A Mass of Christian burial will be held on Thursday, October 5, 2017 at St. Joseph's Church, Winsted at 10 AM. Burial will follow at St. Joseph's Cemetery, Winsted with full Military Honors. Memorial contributions may be made to St. Joseph's Church or The Knights of Columbus. Visit an online guestbook at montano-shea.com.