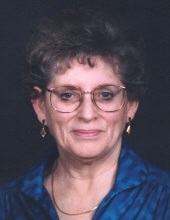 Obituary for Jane Marek
WINSTED -

MAREK – Jane Marek, 91, passed away on September 2, 2017. She was the loving wife of the late John Marek for 70 years. Born April 26, 1926 in Winsted; the daughter of the late Frank and Eathol (Currie) Holt.

Jane was a resident of Litchfield Woods for many years where she made tie dye shirts and homemade Christmas ornaments. She was a communicant of St. Joseph's Church, a devoted homemaker and enjoyed jogging and bowling.

She leaves three sons, Gary Marek, Alan Marek and John Jr., all of Winsted; two grandchildren, Dustin and Jesse; several nieces, nephews and cousins. She was pre-deceased by a brother, Frank Holt, Jr.

Friends may call on Sunday, September 10, 2017 at Montano-Shea Funeral Home, 922 Main Street, Winsted from 4 – 6 PM. A Mass of Christian burial will be held on Monday, September 11, 2017 at St. Joseph's Church at 10AM. Graveside services will be held on Saturday, September 16, 2017 at St. Joseph's Cemetery, Winsted at 10 AM. Visit an online guestbook at montano-shea.com.