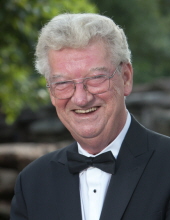 Obituary for Clifford Norman Kelley, Sr.
WINSTED –

KELLEY – Clifford Norman Kelley, Sr., 73, passed away peacefully on August 30, 2017 surrounded by his family. He was the loving husband of Anita (Lenoir) Kelley for 5 years and the late Audrey Jean (Lovett) Kelley for 40 years. Born January 16, 1944, Cliff was one of thirteen children born to the late Harold Martin Kelley and Elinor (Parsons) Kelley.

He attended The Gilbert School and then proudly served in the U.S. Army. Cliff was a God, Country and Family man through and through. Being an avid outdoorsman, he enjoyed golfing, fishing, hunting, boating and travelling the world. He was self employed involved in many different business capacities most recently in international finance. Cliff also belonged to many civil clubs including The Lions Club of Winsted, Northwestern Connecticut Sportsmen's Association in Colebrook and The Old Newgate Coon Club. He was truly a patriotic, dedicated family man who will be deeply missed by all those privileged to have known him.

In addition to his devoted wife, he is survived by his children, Cliff (Diane) Kelley, Jr., of FL, Michael (Michelle) Shigley of WA; Raymond Woodard, Jeffrey (Rhea) Woodard and brothers, Harold Elmer Kelley, Austin Leonard Kelley, Thomas Michael Kelley, Terence Patrick Kelley, all of Winsted and Dennis Sean Kelley of CO; sisters, Patricia Jane Cappabianca, Joan Maria Tully, Sharon Brenda Rich, all of Winsted and Kathleen Agnes Quick of Bristol; beloved grandchildren, Brandon, Courtney, Dianne, Rachel, Rebekah and Abigail, Jeffrey, Jr., Christopher, Samantha,; many nieces and nephews.

He was predeceased by son, Nicholas Stephen Shigley and his siblings, Richard Alfred Kelley, Eleanor May Dodge and William Edward Kelley.

Friends may call on Tuesday, September 5, 2017 at Montano-Shea Funeral Home, 922 Main Street, Winsted from 5 – 7 PM. A Mass of Christian burial will be held on Wednesday, September 6, 2017 at St. Joseph's Church, Winsted at 11 AM. Burial will follow at St. Joseph's Cemetery, Winsted with full Military Honors. In lieu of flowers, memorial donations be made to: USO, uso.org/donate and/or Homes for Heroes Foundation, 9201 West Broadway Avenue, Suite 615, Minneapolia, MN 55445. Visit an online guestbook at montano-shea.com.