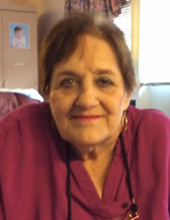 Obituary for Annette Yvonne (Chamberlain) Coon
ENFIELD –

COON – Annette Yvonne (Chamberlain) Coon, 76, passed away peacefully on Friday, August 18, 2017. She was born February 26, 1941 in Benson, VT; the daughter of the late Howard Chamberlain and Albina (Preseau) Chamberlain Roberts.

Annette was an EMT in New Jersey, a gifted singer with a beautiful voice and enjoyed playing the guitar. She was also very talented at arts and crafts even teaching them at one point and hosting a local TV show dedicated to making them. Annette was living in Alaska and survived the devastating earthquake of 1964.

She is survived by her beloved siblings, Dorothy Fournier of Enfield, John Chamberlain and wife Janet of CA, Paul Chamberlain and wife Rachel of ME, Linda Moore and husband Roger of Winsted, Sandra Kelley of FL, Nancy Heacox and husband Richard of Barkhamsted, Dora Reese and husband Michael of NC and David Chamberlain and wife Martha of Winsted; and many nieces, nephews and friends. In addition to her parents, she was predeceased by four sisters, Lucille Burdick, Marie Lambert, Carol Marston and Joan Brewer.

Friends may call on Friday, August 25, 2017 at Montano-Shea Funeral Home, 922 Main Street, Winsted from 10 AM – 12 PM with a funeral service at noon. Visit an online guestbook at montano-shea.com.